2017 (Summer) International Student Graduation Ceremony Held
On June 30, Dalian Medical University held the 2017 (Summer) International Student Graduation Ceremony in the academic hall on the first floor of library. 196 international graduates from 36 countries and more than 100 parents of international students, as well as the leaders from functional departments and related faculties, international student teaching supervisors, tutors and teacher representatives, the staff of International Education College, totaling more than 400 people, attended the ceremony.
First of all, Lei Haixin announced the Decision to Confer Diplomas and Degree Certificates respectively to 2017 (Summer) International Doctors, Masters and Undergraduates of Dalian Medical University.Then Vice-president Guan Youfei conferred diplomas and degree certificates respectively to international doctors, masters, undergraduates and Taiwanese undergraduates and masters, and shifted their tassel locations.

At the ceremony, Dalian Medical University International Student Alumni Association was officially established.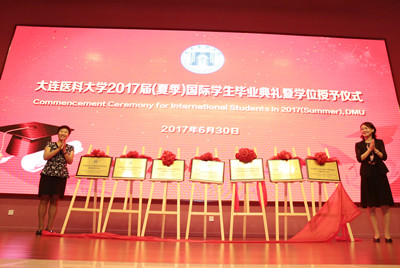 All the graduates solemnly took the oath of a medical student. The representatives of international graduates presented flowers to the representatives of teachers to express their thanks. All the international graduates of 2017 (summer) donated 120 foreign language books worth of 5000 Yuan to Dalian Medical University.
Tanzanian student Salma as the representative of international graduates delivered a speech to express her heartfelt gratitude to the university and teachers.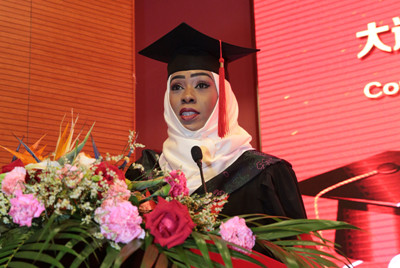 Professor Ma Jianmei, Vice-dean of Basic Medical College, delivered a speech as a teacher representative. H.E. Mr. Loane Naivalurua, Fijian Ambassador in China, delivered a warm speech at the graduation ceremony. Vice-president Guan Youfei delivered a kind and sincere speech at the graduation ceremony. He said that Dalian Medical University had attained significant achievements in international student doctoral program and clinical medicine postgraduate program in recent years, and would set up the scholarships to attract the outstanding international students to study for master's degree and doctoral degree. He expected that the international graduates would firmly remember the oath of a medical student, continue to learn and pursue further education here.