The Foreign Minister Mohamed Asim of Maldives Visited Dalian Medical University
On the morning of Jan. 7, a 6-person delegation including Mohamed Asim (the Foreign Minister of the Republic of Maldives), Ahmed Khaleel (Secretary for Bilateral Affairs of the Ministry of Foreign Affairs of Maldives), and Mohamed Faisal (Ambassador of the Maldives in China) visited Dalian Medical University (DMU), accompanied by the personnel from the Ministry of Foreign Affairs of China and Dalian Foreign Affairs Office. The Party Secretary Sun Zhaolin and Vice-President Zhao Jie of DMU met the guests.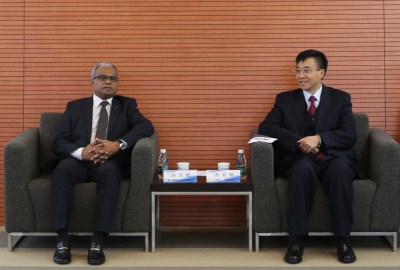 On behalf of DMU, Sun Zhaolin extended a warm welcome to Foreign Minister Asim and other members, and described the DMU situation, the development of international education and the exchanges with Maldives in recent years. He hoped that the two sides would continue to deepen the existing exchanges and cooperation, and develop new cooperation in medical education and medical health. In addition, on behalf of DMU, Sun Zhaolin presented two full Chinese government scholarships to the Foreign Minister of Maldives.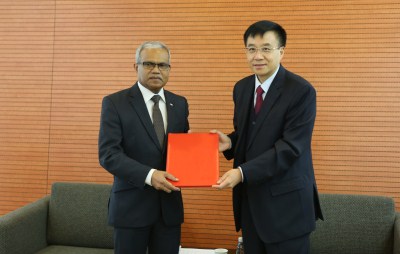 Foreign Minister Asim affirmed the important function of DMU in training medical talents, Sino-Maldives medical education and cultural exchanges. He hoped that the universities, medical institutions and research institutes from both countries could strengthen the communications, and jointly promote the teaching and research cooperation, student exchanges, as well as visits of teachers and scholars in the future.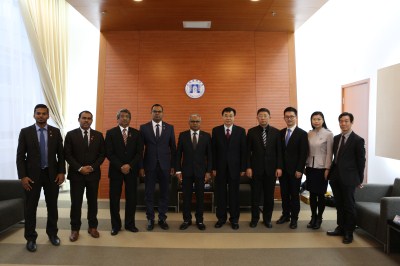 After the meeting, Foreign Minister Asim made a keynote speech entitled Sino-Maldives Relationship in the New Century in the library academic hall.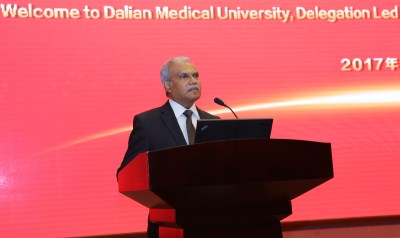 After the speech, Foreign Minister Asim and his delegation had a cordial discussion with more than 30 Maldivian students in the fourth conference room of the library, and then visited the international student apartments.