World famous medical scientist Professor Jan-Ake Gustafsson visited us and joined Advanced Institute for Medical Sciences
On Jul. 5 – 8, professor Jan-Ake Gustafsson (the academician of the National Academies of Sciences, Engineering and Medicine, academician of Royal Swedish Academy of Sciences, father of world estrogen receptor, incumbent director of Institute of Nuclear Receptor and Signal Transduction of the University of Houston, Medical Dietetics Professor of Karolinska Institute) visited our campus together with his wife professor Margaret Warner, from the Department of Biology & Biochemistry of the University of Houston.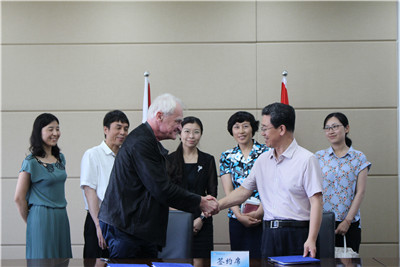 Secretary Zhou Wanchun had a cordial meeting with Professor Gustafsson

Secretary Zhou Wanchun signed Distinguished Professor Agreement with the professor Gustafsson, and issued Distinguished Professor Certificate of Dalian Medical University and Certificate of Scientific Committee Chairman of Advanced Institute for Medical Sciences. Secretary Zhou thanked professor Gustafsson for his contributions to the construction of Advanced Institute for Medical Sciences, and looked forward to all-round help and guidance of him and his wife for the overall scientific research development and related discipline construction of Dalian Medical University.

Professor Gustafsson and Warner were invested as guests of Names & Masters Forum of Dalian Medical University, and gave academic reports entitled as "Some new findings involving ERbeta and LXRbeta" and "ERbeta in the Prostate" respectively in our library and the First Affiliated Hospital, having thorough interpretation of latest findings of their research team in the studies of ERbeta and LXRbeta for the past few years, and making detailed description on the functions of two nuclear receptors in physiological and pathological condition, as well as application prospect of its agonists in the clinical treatment of serious diseases.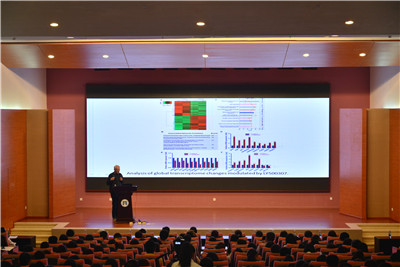 Professor Gustafsson made an academic report