The Fifth China •Bangchui Island International Tumor Frontier Forum Held by Our University
On July 9 - 11, we held the Fifth China •Bangchui Island International Tumor Frontier Forum, and Award Ceremony for Outstanding Contribution Award of Sun Simiao Tumor Research and Treatment. More than 370 experts and scholars from top research institutions and world first-class universities in the United States, UK and China etc. were present at the forum, discussing about the frontier development problems on the oncology. The academicians of tumor field, The Recruitment Program of Global Experts, The National Science Fund for Distinguished Young Scholar, Cheung Kong Scholars, totaling more than 100 people participated in the forum.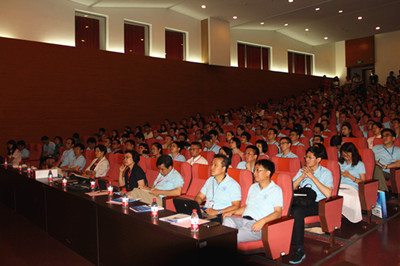 At the opening ceremony, vice president Zhao Jie delivered a welcoming address on behalf of the university. The research result of Wang Xiaoding, the academician of National Academy of Science on new type of experimental drug for cancer towards apoptosis won the Outstanding Contribution Award of the Fifth Sun Simiao Tumor Research and Treatment, secretary of the party committee Zhou Wanchun handed out the award for him.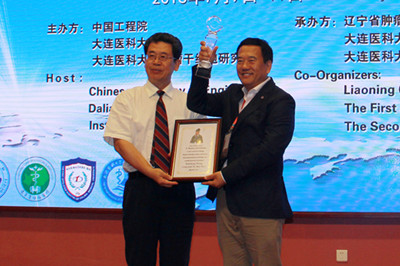 Secretary Zhou Wanchun issued certificate and trophy for the academician Wang Xiaodong
International Tumor Frontier Forum always adheres to the development concept of "small-scale and high-level" elite forum, further enriches the connotation, promotes the interdisciplinarity, advances frontier dialogue, and strengthens innovation and transformation. This forum also opened up five professional academic reports, including Academician Forum, Foundation Forum, Transformation Forum, Youth Forum, and Essay Competition, encouraging up-and-coming youngsters to keep climbing and widening the channel of communication. The participants shared the essence of the scientific research of academicians and senior experts, and deepened the understanding of basic clinical transformation.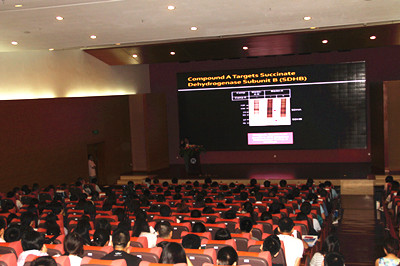 Experts and scholars made academic reports