The Graduation & Degree Awarding Ceremony 2019
On morning of 27th June, the Graduation & Degree Awarding Ceremony 2019 was opened at DMU Sports Hall, in witness of the graduation of 3072 undergraduates, graduates and overseas students.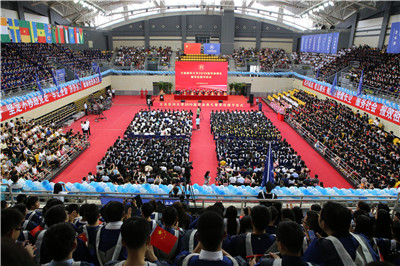 At 10:00 in the morning, the ceremony was unveiled in the solemn national anthem, followed by the announcement of Zhao Jie, Deputy President and Chairman of the Academic Degree Assessment Committee on the Decision of Doctorate, Master's and Bachelor's Degrees Awarding Respectively to Graduates and Undergraduates of Year 2019.
Followed the announcement of Deputy President Zou Cunhui on the Decision of DMU on Rewarding Students of 2019 Graduated with Magna Cum Laude, DMU leaders respectively awarded graduation diplomas and academic degrees to doctorate and master candidates, undergraduates and overseas students in this year before the turning-the-tassel ceremony and the rewarding ceremony to excellent graduate representatives.
Moreover, speech was delivered by representatives of in-status and graduate students, of school faculty and alumnus.
DMU President Wang Zushen delivered a cordial speech titled Start Again Without Forgetting Where We Started to express his hope for the fresh graduates: first is to start again with exuberant youth and bear our national interest in mind; second is to start again with fighting spirit and enterprising medical practice; third is to start again with self-perfection and high medical virtue. The ceremony ended with everybody singing the song My Motherland and Me.